I was asked what college level writing is, and I thought, well...what is college… what is writing…???
What working together
can create
OK, where to start… within colleges… academia… the scholarly realm... a bunch of rich old white guys have been in quite the debate. As they argue about what college level writing is, and what college should teach they have been trying to make some changes to the scholarly realm, and make academia a little more democratic. I think, they may be trying to change things up because our society is broken, and maybe, just maybe, if academia was a little more democratic, our society may become a little less broken.
Stanley Fish
Stanley Fish is one of the old dudes, and in his
Blog
"What College Should Teach," he claims "Basically, there is only one thing to be learned, that a sentence is a structure of logical relationships; everything else follows."
OK, I get that; I can see how writing can be viewed as logical relationships, all working together. I like to think of it like a multilevel staircase, the steps are each sentence, and each thought should lead to the next. Each paragraph can be viewed as each flight of stairs, all work together, and leading some where…
Wouldn't want to climb without the rope
Fish's logic is simple, but just like anything else in life you must learn how to build a staircase
before you can start building stairs, and unless your some sort of natural craftsman, or happen to build staircases it all the time, it
can be hard. Some people are lacking the motivation needed build something so big, others simply don't have the right tools, and some people think they are really good at building staircases, but I sure wouldn't want to use their stairs. Building stairs must be done right; you cant half ass it, being others may want to use your stairs someday.
Why I do what I do,
My worlds greatest little people
Most college students are young, still kids in a since when they enter college... their frontal lobes aren't fully working yet, and I don't think they understand that they are attending college to become the leaders of our society. I tried to attended college when I was under 25, but it didn't work out so well. Now I'm a thirty-five year old mother of three, and I know that while yes I am very important, its not just about me, and my choices effect more than just me. You see... when I was young my family was far from middle class, my mother didn't put me or my education first, and my father died, but when I had my own kids I quickly learned how valuable an education is: So I got at job at The Ohio State University in the medical center, in order to educate myself and family at a discounted rate. I have been taking classes for while now, and I have found I really like this scholarly realm. So... I finally decided it was time to take a much needed English class, and I was assigned to research the very subject them old dudes are arguing about, college writing.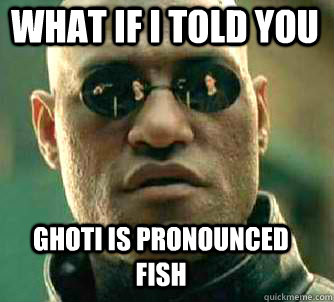 Red or Blue
My research took place on OSU's Newark campus, and for 8 weeks I watched a tutoring session within the University's Writers Studio. In the sessions I watched 2 very different students decode readings from writers like Emerson and Hobbs, and watched as they tried to relate the concept of fear to the classic poems. The sessions took place under a sign on the wall that says ghoti and fish are the same word: Perception is everything.
Most students enter college with hopes of better themselves in some way, and wanting to provide a better life for themselves and their family, but there are some students that seem to think that the privilege of obtaining a higher level of education is somehow owed to them, and quite frankly people like that annoy me. You see... I've busted my butt in order to obtain a higher level of thinking, and don't like to be distracted by the clueless, self gratifying thoughts of others.
Over the course of the sessions I observed, when the student who was being tutored chose to come prepared and willing to learn, it was enjoyable to watch them decode the text; but when he came to the sessions unprepared and not wanting to learn, it was such a waste of time. I am a very busy lady, who has a lot of other responsibility's, and all I could think as I watched the student and the writing consultant discussing video games, and other clueless thoughts was "I just rushed in the shower... and didn't shave my legs... to listen to this shit…"
Gerald Graff
So, I do agree with Fish's about writing being a structure of logical relationships, and see how the college curriculum can be viewed as logical relationships, all working together, to lead somewhere, but I have to agree with Fish's buddy Gerald Graff a little more. In his essay,
Hidden Intellectualism
Graff stated, "Real intellectuals turn any subject, however lightweight it may seem, into grist for their mill, through the thoughtful questions they bring to it, whereas a dullard will find a way to drain the interest out of the richest subject."
Colleges need to cut the bull shit, and teach students they are attending college to become intellectuals,critical thinkers, and the leaders of our society, not to play childish games. The college curriculum can teach a higher level of thinking, but some students don't realize they are there to become the leaders and critical thinkers. I know the first time I tried to get my degree I didn't understand this yet, and no one told me either. In order to make changes within our broken society, students need to learn that debating is good, being, listening to others is how we form our opinions: Arguing is just how humans discuss things with passion, and it can help to bring topics that legitimately need discusses to the minds of others.
My Great Grandma
and I
Colleges are discussing the issues with the college curriculum, but I'm not sure students are listening.I feel colleges need to clearly tell students to quit fucking off. Graff says in
Undemocratic Curriculum
that students are on cognitive overload, but I'm not so sure about that either. You see...when I was little, if I did something wrong my grandma would loving say "you little shit ass." I think my grandma would tell the old dudes that college students are just being little shit asses. The only problem with grandma logic is college students are not children/little shit asses, and they are being shit heads. We attend college to acquire a higher level of thinking, and we are there to learn not to play, and student need to focus on acquiring knowledge to better themselves, so we can all work together to begin to fix our broken society.